I enjoy sharing my story and motivating others to face life's challenges with grit, wit, grace and guts. All of my talks are customized to my audience and I promote all of my appearances through social media and my national show, Fearless Fabulous You!
Want more information on scheduling a book signing and talk, webinar or teleseminar? Email me at [email protected] 
Here are sample topics of my talks:
Staying Healthy at Any Age (examples)
How to Stay Fearless & Fabulous at  Any  Age, Embrace Your Authenticity and Project Your Brilliance
Being CEO "Chief Empowerment Officer" of Your Health- Why It Matters and What It Takes
Over-extended? Over-stressed? How to portion control your lifestyle diet to stay balanced
Add in the Good; Crowd out the junk. My simple MATH formula that adds up to better health
Reinventing Your Life (examples)
From Fizzle to Sizzle: How to Re-Ignite Your Personal Brand and Reinvent Your Career
Turn Stumbling Blocks Into Stepping Stones, Reframe and Reclaim the Life You Want
Spin It To Win It!: How to package, present and pitch yourself to make an amazing first- and lasting- impression
How to be an Opportuneur: Turning change into dollars
Cancer Survivorship (examples)
What To Expect When You're Not Expecting Breast Cancer
Five/Ten Lessons I Learned from Having Cancer To Stay Fearless, Fabulous & Fit Forever
I Wear My Father's Genes- Genetic testing: what to consider
The Healing Journey After Treatment: What To Expect in Your New Normal and How To Cope
Here are some of the organizations where I've been a guest speaker:
Cancer Support Groups and Fundraisers
Bloomingdale's, Atlanta to support Georgia Breast Cancer Coalition and Northside Hospital Breast Cancer (guest speech)
Bucks County (PA) Breast Friends (speech)
Chai Life, New York (teleseminar)
Mary Ellen Locher Breast Cancer, Chattanooga, TN (speech)
North Bay Cancer Alliance, Sonoma, CA (guest speech)
SHARE, New York (webinar)
Survivor Glam Squad Raleigh, NC (speech)
Komen New York. Conducted a websine with Dr. Martha Eddy, Moving for Life, on nutrition, movement and stress management,  Watch webinar here. or cut and paste this link: https://www.youtube.com/watch?v=86QVMlF5VTQ
Professional Women's Organizations
FestiGals, New Orleans, an annual gathering of women in New Orleans each July for empowerment, enrichment and entertainment. My talk was "How to Turn your Life from Fizzle to Sizzle." A special thank you to EPPA Sangria, Enza Prosecco and Barone Fini wines for their support. Watch videos here: http://youtu.be/nmANoGU3xKI and here http://youtu.be/EpEKY8Dc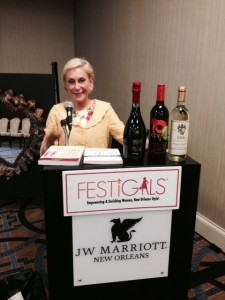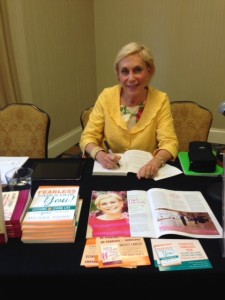 Les Dames d'Escoffier NY  "Women and Wellness." A panel discussion on how to stay healthy and fabulous at every age and stage of your life. Panelists: Bonnie Tandy Leblang, RD; Melanie Young, Author: Ellie Krieger, RD, Regina Ragone, RD.  Click Here to watch video.

Women of the Walden Club, Chattanooga, TN (guest speech)
Orlando (FL) Professional Women's Meetup (guest speech)
Arts, Education and Religious 
Chattanooga (TN) Theatre Center (guest speech)
Girls Preparatory Schools, Chattanooga, TN (guest speech)
Mizpah Congregation (guest speech)
SUNY Kingston, NY (guest speech)
Touro Synagogue, New Orleans (guest speech)
Bookstore Talks (book signings with a talk)
Barnes & Noble, New York City (Upper West Side)
Barnes & Noble, Chattanooga, TN
Barnes & Noble, Atlanta,
Barnes & Noble, Orlando
Book Passage, Marin County, CA
Inquiring Minds, New Paltz, NY