Turning Obstacles Into Opportunities
Melanie Young knows how to face challenges with grit, grace and wit and reframe them to make things happen for the better. She a motivational muse for anyone who feels stuck and who wants to reignite their personal or professional brand and she is a living example of turning stumbling blocks into stepping stones.
An Engaging Motivational Speaker
A certified health coach since 2015, Melanie has spoken on panels, with professional women's organizations and breast cancer advocacy groups. Talks are tailored for each group. Examples:
How to Stay Fearless & Fabulous at  Any  Age, Embrace Your Authenticity and Project Your Brilliance
Being CEO "Chief Empowerment Officer" of Your Health- Why It Matters and What It Takes.
Five/Ten Lessons I Learned from Having Cancer To Stay Fearless, Fabulous & Fit Forever
From Fizzle to Sizzle: How to Re-Ignite Your Personal Brand and Reinvent Your Career
Spin It To Win It: Turn Stumbling Blocks Into Stepping Stones, Reframe and Reclaim Life on Your Terms
A Results-Focused Personal Empowerment Coach
How did you reinvent your life? That's the #1 question Melanie is asked. Since completing breast cancer treatment in 2011, Melanie decided to rewrite her next chapter; well, a few actually! She decided to become a voice to empower women through her radio shows, b0oks and articles.  And she has created programs and courses to to help other women reset and refocus their lives to reach new goals.
A Breast Cancer Survivor Who Wrote an Award-Winning Book for Women with Breast Cancer
Melanie wrote her first book, Getting Things Off My Chest: A Survivor's Guide to Staying Fearless & Fabulous in the Face of Breast Cancer (Cedar Fort) , to help newly diagnosed women make confident, informed choices about caring for their well-being during and after treatment. This book received both the 2014 International Book Award and the USA Best Book Award for cancer health topics. Melanie's second book, Fearless Fabulous You! Lessons on Living Life on Your Terms (Cedar Fort) is filled with inspirational insights to recharge your spirit and revalue your self-worth.
Her articles have appeared in Everyday Health, Huffington Post, MindBodyGreen, Greatist and Breast Cancer Wellness Magazine. She has appeared on numerous television and radio shows and has been featured in both Authority Magazine and The Quiet Warrior as a social impact hero.
A Voice To Empower Women 
Melanie hosts the weekly national radio show, "Fearless Fabulous You!" to spotlight inspirational women entrepreneurs and discuss health and wellness topics. (live Wednesdays on W4WN: the Women-4-Women Network, the #1 internet radio network for women. Podcast on on demand at iHeart Radio, Spotify, Apple Podcasts and many other podcast platforms.
Melanie supports many organizations and charitable efforts for women's health, education and careers. She recipient of the Handcraft Heroes Breast Cancer Awareness Award and the Caring Advocate for Recovery Through the Arts Award.
 Professional Background: Melanie turned her passion for wine and food, connecting people and communities into a successful marketing and events business, The Connected Table®. With husband, David Ransom, she co-hosts "The Connected Table," a weekly radio show airing on W4CY and IHeart Radio. During her culinary career  she developed and managed The James Beard Foundation Awards and New York Restaurant Week, and produced multi-chef tasting events to raise money and awareness for charitable causes throughout the U.S.
Sample Video (also visit www.melanieyoung.com)
"Women & Wellness Seminar" September 13, 2013  http://www.youtube.com/watch?v=gE8Qn5jTqv4   Additional video and broadcast appearances: http://www.youtube.com/channel/UC3W3kuUfk40hJQyl-5yIvHw/videos
Social: http://twitter.com/mightymelanie   http://facebook.com/FearlessFabulousMelanie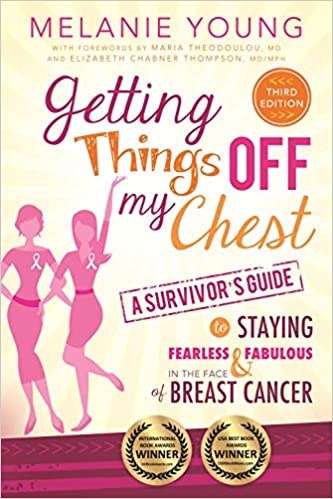 In Getting Things Off My Chest, author and breast cancer survivor Melanie Young helps those who have been recently diagnosed to navigate the rough waters ahead. It's like having a breast cancer mentor right by your side, helping readers plan for the road ahead and giving them empowering advice at every turn.
A passionate traveler, Melanie has written a practical "guide" to help navigate the trip most people didn't plan for: their journey through Cancer Land. She arms them with the right questions to ask, handy checklists to keep organized and savvy survivor tips to keep them looking and feeling their best every step of the way.
The updated 3rd edition, Melanie shares how her breast implants were recalled in 2019 due to a link to a rare form of cancer and experienced breast implant affliction. She underwent transfer surgery to replace them in summer 2020. With Covid19 considerations, she also overhauled the caregiver and food safety sections of the book.
In an interview or guest article, Melanie can offer advice including:
How to create a health management plan, with ideas for a record-keeping system that will help you organize medical visits and tests while still allowing you to have optimal health- applicable for anyone facing a major illness,
How to manage diet and health prior to surgery to give you the best possible surgical outcome and post-treatment. (Melanie's also a longtime food professional and Certified Integrative Nutrition Health Coach)
How to make wise decisions about your caregiver relationships – everything from choosing the best oncologist to communicating with loved-ones about your diagnosis
What to expect with treatment including insights about lumpectomy, mastectomy, and lymphedema
The pros and cons of different implant, prosthesis, and breast reconstruction options
Tips for optimal health before surgery, during chemotherapy and radiation and post treatment
Coping with anxiety and maintaining a positive body image
Ideas for keeping yourself looking and feeling your best, including essential insights and tips on wigs, skin and dental care, and fashion choices
There is only one aspect of cancer that no one has control over, and that is the diagnosis itself. This road map will help arm the reader for the battle ahead as they make smart, confident choices. Melanie will be their ally as they turn the breast cancer diagnosis into an opportunity to learn how fearless and fabulous they really are.