She Created the First Hair Salon for Kids
Cozy Friedman knew nothing about cutting hair or raising kids when she conceived of Cozy's Cut's For Kids, a hair salon just for children. But she saw an idea and seized an opportunity. Marketing and making things happen is in Cozy's DNA. In 1992 she heard about a young boy's bad experience at an adult hair salon. Cozy conceived her kid-friendly salon.
Cozy went back to school to learn hair cutting, wrote a business plan and started to shop her idea around. Initially investors just didn't get the concept. A hair salon just for children?  It simply did not exist.  But, Cozy is persistent and never stopped trying. Now 20 years later Cozy's Cuts For Kids has multiple salons, and Cozy launched a hair care line formulated just for children that is sold nationwide.
When the Wolf Blows: Living with Lupus
I didn't know much about the autoimmune condition Lupus and how devastating a diagnosis can be until I read Milly Diericx's book "Befriending the Wolf" and researched Lupus. According to The Lupus Foundation of America, an estimated 1.5 million Americans and five million people worldwide suffer from lupus.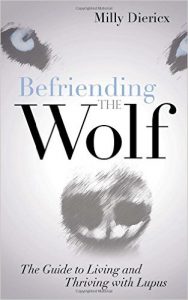 Lupus is a chronic, autoimmune disease that can damage any part of the body (skin, joints, and/or organs inside the body). Lupus creates autoantibodies which can attack and destroy healthy tissue causing inflammation, pain and damage to parts of the body. Lupus strikes mostly women of childbearing age (15-44). However, men, children, and teenagers develop lupus, too. Most people with lupus develop the disease between the ages of 15-44.
Studies have shown that 65% of lupus survivors live with chronic pain; 61% have suffered constraining lifestyle changes and 50% have suffered emotional trauma related to the disease. Milly will discuss her personal experience with Lupus, nearly dying from an attack, and the holistic path she has taken to manage her condition. She will also discuss coping emotionally and physically with a chronic illness. @befriendingthewolf
For more information on Lupus visit: www.lupus.org or call  800-558-0121, en Español 800-682-7990